---
Official representatives
PIPER
Argentina, Paraguay y Uruguay
Freedom of flight
---
When Mr. Piper introduced the Piper Cub in 1937, he had a dream – the freedom of flight for everyone. Over 130,000 aircraft later, generations have lived that dream. Training in Pipers. Serious business transportation in Pipers. Pipers bring a higher level of safety, technology and performance to enhance the lives of owners. Piper is the Freedom of Flight.
Design
Piper's engineering and design teams lead the industry in designing for the owner-flown class of aircraft. Ergonomic controls, seats built for comfort, and avionics placement and design, are coupled with Piper built-in durability and components chosen for their reliability. Your family and friends will enjoy experiencing the quality, design and care put into your Piper aircraft.
The cabin
Above class
The interior is ready for high flight hours while still providing maximum comfort and durability. The Interior is crafted with higher style, more colors and finer materials for personal transportation missions. Creature comforts abound with high end carpet and interior appointments, power plugs, lighting controls, and seat controls for each passenger.
Safety Features
Safety is Piper's foremost priority as illustrated by the extraordinary safety features available across the Piper product line. The Piper aircrafts are designed specifically for efficient, luxurious, comfortable, and safe personal flying. Outfitted with the latest Garmin 1000 ® NXi avionics and the most thoughtful, intuitive and inspired engineering in general aviation.
.
Welcome to the Piper Archer® LX
The Piper Archer® LX takes the venerable Cherokee fuselage and redefines it. The Archer® LX is among one of the most recognized single-engine, four-place aircraft available today for the private owner. With a 180-horsepower Lycoming engine, advanced Garmin G1000 NXi avionics and leather-appointed, stylish interior, the Archer® LX is an elegant and reliable aircraft. It is perfect for continuing your flight journey, as an enjoyable cross-country aircraft. Plus, it's the ideal "step-in" to the Piper family of products.
Max Cruise Speed


128 ktas | 237 km/h

Max Range


522 nm | 967 km

Max Approved Altitude


14,100 ft | 4,298 m
Welcome to the Piper Archer® TX
The perfect combination of durability, reliability, comfort and technology – the Archer® TX is the ideal training platform. Students, instructors, and passengers alike will welcome the comfortable, 180 HP Archer® TX with the Garmin G1000 NXi cockpit, and flight school owners will be delighted with the purchase and operating costs of this special trainer.
Max Cruise Speed


128 ktas | 237 km/h

Max Range


522 nm | 967 km
Welcome to the Piper M350
Soar above traffic and weather at FL250 in pressurized comfort with a twin-turbocharged piston engine in your luxurious M350. Serious performance. Serious capability. Serious operational efficiency. Serious value. Serious freedom.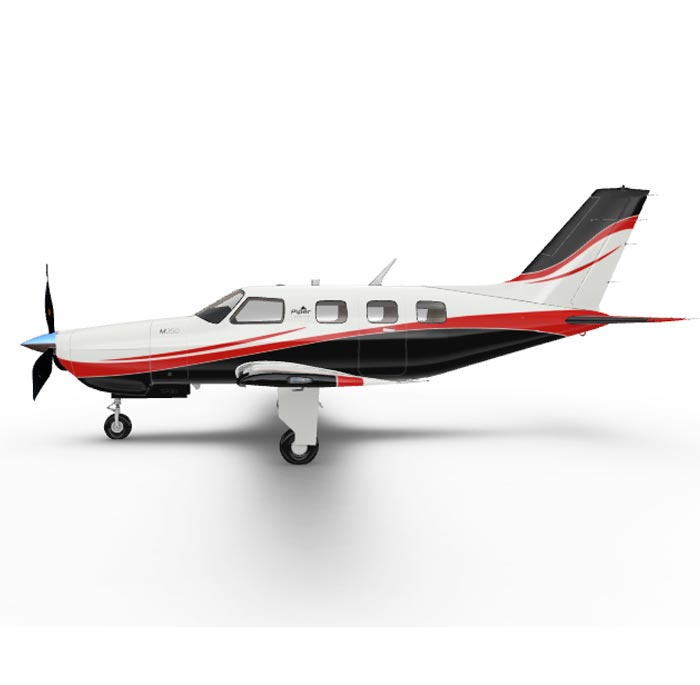 Max Cruise Speed


213 ktas | 395 km/h

Max Range


1,343 nm | 2,487 km

Max Approved Altitude


25,000 ft | 7,620 m
Welcome to the Piper M500
The M500 combines jet-fueled performance, with state-of-the-art technology and safety features, and stylish, elegant luxury. The tried-and-true PT6A-42A turbine engine with 500 SHP and the impressive Garmin G1000 NXi Avionics Suite with the GFC 700 Autopilot come together to set a new standard for capability and value. Long-range and short-range missions alike are easily mastered, while you and your passengers soar high above weather and traffic. The M500 sets the new standard in its class for efficient operations, value and freedom.
Max Cruise Speed


260 ktas | 482 km/h

Max Range


1,000 nm | 1,852 km

Max Approved Altitude


30,000 ft | 9,144 m
Welcome to the Piper M600/SLS
First Garmin Autoland Equipped Aircraft to Receive Type Certification Safety | Luxury | Support When Piper introduced the M600, we exceeded industry expectations for performance and operational ease in a single-engine pressurized turboprop. A clean-sheet designed wing and the addition of Garmin's G3000 avionics suite were key foundational enhancements that paved the way for product growth. Now we are using that platform to raise the bar in safety, luxury and support. Introducing the M600/SLS, setting new standards for aircraft in every category, meeting the highest standard in general aviation – yours.
Max Cruise Speed


274 ktas | 507 km/

Max Range


1,658 nm | 3,071 km

Max Approved Altitude


30,000 ft | 9,144 m
CONTACT
---
Complete the form and you will receive information shortly!
11 4085-7576
babello@hangaruno.com.ar
---
San Fernando International Airport
Av. Hipolito Yrigoyen s/n, B1646 San Fernando, Province of Buenos Aires
---